So we went into Waterstone's yesterday to have a browse at all of the books and take note or pictures of various book covers as part of preparation for coming up with our own designs.
I was watching a video on youtube, which somebody had shared on facebook the other day, which discussed the change in the way movie posters are designed in the modern era, as opposed to those from the 70s and 80s and before those eras. It was the video-maker's opinion that film posters have lost the qualities that originally made them attractive; where once there were unique, hand drawn/painted/lettered images which stood out from their competitors. Of course there were conventions that remain to this day, but ideas, compositions, layouts and type weren't reused or rehashed as often as they are today, nor on such a large scale across the film industry.
Here's the video if you want to give it a watch:
http://www.youtube.com/watch?v=VXJiBkFgprQ
As I started to look around at the bland, samey images churned out by design companies the same thoughts expressed in the video popped into my head. It seemed far more important for some publishers to express a brand identity, rather than convey the themes expressed in the book, using the same typeface across totally unrelated books, or sticking to a specific pattern on the spine.
I'm not an avid reader of books, I never was big on pages and pages of black and white as a kid and since moving away from school the only things I read are digital resources and comic books. But it made me think, I wouldn't be intrigued at all torn these over and check out the blurb, how could anyone be attracted to these books?
A prime example of this was Fifty Shades of Grey.
Now I assume that the cover is particularly inconspicuous to protect the valour and respectability of the filthy mothers of Britain and beyond, but it's common knowledge now after the hoards of news surrounding the bloody thing, making that purpose invalid. Somebody might a swell have some fun with it! Would anybody honestly be attracted to that tie on black if it wasn't common knowledge of the contents?
It was probably discovered by some poor bugger looking for advise on how to behave in a business environment. A majority of book covers just make them look like textbooks nowadays.
Anyway, that's my opinion on things... Let's hope publishers start taking a greater interest and see greater value in the creative diversity of proper illustrators and graphic designers in the years to come.
So I had a bit of a job finding stuff that actually caught my eye. Here's what I found:
Apfel Zet:
What a beaut to kick off with. This cover really goes back to the idea that books can (and often throughout history used to) be works of art, this truly is an ornate cover. It's easy to imagine these geometric shapes and patterns produced on a lavish, embossed hardback. Though the colours are fairly muted throughout, I think the complexity of the patterns and the multitude of shades used really makes the cover pop. The only thing I'm not keen on is the scroll in the centre, it just seems out of place to me, perhaps it could do without the black outline, unlike the other elements.
Superfantastic design:
Now, Superfantastic are guilty of a few of my previous negative comments, but their designs for Nick Hornby's novels, which focus on illustrated type are really simple, effective and appealing.
And others which I just found generally appealing:
Alice Tait:
Joe McLaren:
Shepard Fairey: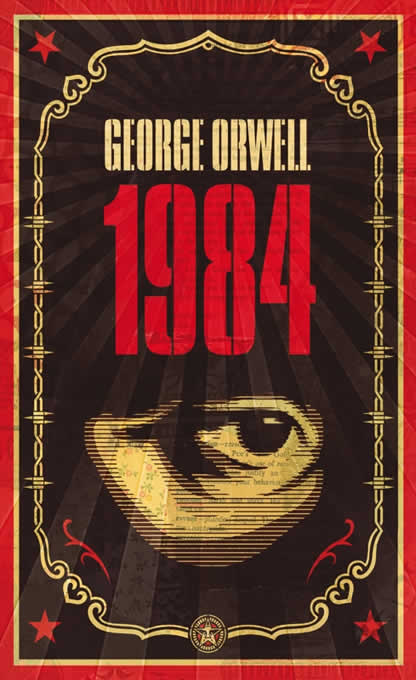 Coralie Bickford-Smith:
Kazuko Nomoto (Nomoco):
Adam McCauley:
Ed Kluz:
Matthew Phinn:
Johnathan Pelham:
Toby Clark: